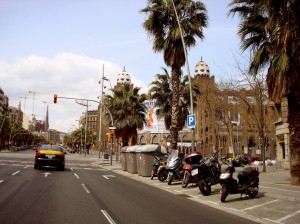 In the war between Madrid and Barcelona, which one will you choose — the place that opens its arms, or the one that eludes you?  RSJ founder Gillian Kemmerer discusses her love affair with Barcelona (namely its people), and the city's curious habit of escaping her grasp.
☙
There is a funny phrase in French that goes something like this: bâtir des châteaux en Espagne.  To build houses in Spain.  The American equivalent is "to build castles in the sky," or to dream the impossible dream and long for what has no foundation in reality.  It's of ironic significance to my life that the French believe building houses in Spain is synonymous with desiring the unattainable.  Now I won't commence the argument of whether we can call Catalonia "Spain" or where all of the autonomous communities stand in the spectrum of sovereignty and unity, but for my intents and purposes, the phrase is slightly altered: bâtir des châteaux à Barcelone.  To build houses in Barcelona.
Before I break out into an emotional chorus from The Man of La Mancha, which I have done alone on several embarrassing occasions, I suppose I should explain why Catalonia won me over in the grand tally of Spanish rivalries. Travelers to Spain often divide themselves into two camps – Madrid, or Barcelona.  It is an enormous impasse to admit that you like both.  Madrileños show you the crisp, gorgeous nobility of dwelling in Spain's capital and rooting for Real—Spanish, 'royal'—Madrid.  They point to the Prado, the Retiro, and the King; if you love Spain, how could you ever prefer another city to this tree-lined jewel in the Iberian crown?  But they don't actually demand an answer to that question, because that is not Madrid's style.  They are modern, relaxed, stylish-but-effortless night owls with an irresistible air of self-awareness and an understated attitude of machismo.
For me, loving one of the two cities is not a question of inferiority/superiority, or a question of centralism versus liberality – it's a question of how you want to feel.  Before you close this window in anticipation of pathetic travelogue sap, hear me out.  You don't have to choose between Madrid and Barcelona, but you most certainly will.  When two cities emote such divergent characters, it's natural to "take sides," so to speak.  I took one, but it is not the right one – it's the right one for me.
And now, as if I could stand it any longer, we must cut to Catalonia. Barcelona, specifically.  Catalans are a fierce people – many see their culture as a handful of iridescent glitter swept under the Spanish rug.  Their innovation, work ethic, and post-modern cool are afterthoughts – lumped into the archetype "Spanish" and taken as credit to a country with whom they barely get along.  Their football team, their language, and their great thinkers sparkle on the coast of the Mediterranean waiting to be swept off their feet by the one who says, "I see you for who you are."  There is a melancholy, a resistance, and a zainy bald genius that lurks around the city and darts as fast as its pickpocketers.  And the truth is, no matter what bloody battle we must fight to distinguish it all, I want to join the ranks.  For anyone who has ever wondered if the world views you for your authentic truth, and not the broad statements that characterize your paper-based identity, how could you leave Barcelona anything but twitterpated?  This city understands you, just as it once understood Antoni Gaudí and Salvador Dalí.
But then there's the degree of rejection — and even at the risk of sounding sadomasochist, I admit it's my favorite part.  It's hard to fit into Barcelona.  Catalonia's level of cool sweeps through the city like the balmy breeze that overtakes Port Olímpic in the summer.  As Heidi Klum so concisely puts it in the context of modern fashion, "One day you're in, and the next day you're out."  You will never be Catalan.  It's something that runs through your blood in a collective experience, and no matter what you can (or can't) say in the native tongue, you'll never assume the identity.  This is true across Europe—a concept we as Americans, fundamentally melting-pot people—simply do not comprehend.  I left Barcelona wanting so badly to be a part of it, that I dissolved into tears as the plane took off.  You grasp with all of your intention—and it slips away, as gracefully as the spires of the Sagrada Familia escape into the stratosphere.
I contemplated moving to Barcelona, first through earnest professional connections, next through schooling, and lastly on irresponsible whim, but my sensibilities met their match.  A sprinkling of impossible economic conditions, a language barrier more formidable than the Great Wall of China, and my own internal questions reduced me to the periphery once more.  And funnily enough, I know many others who share the stamp of rejection.  Is it possible that subconsciously I want to be kept at bay, or will someday the invisible veil that separates Barcelona from the throngs of its admirers be pierced for me?  And if I have to pierce it myself, the weapon I seek remains unknown. Sometimes I wonder if the lovers of Madrid ever feel the way I do, or if the sleek confidence that comes with wearing white football jerseys on a muddy field opens its arms more readily.  I have my doubts.
Building castles in the sky is a romantic, rather obvious way of expressing the sentiment I associate so fervently with Barcelona. Bâtir des châteaux en Espagne is much better.  In the war between the proud Spanish capital of Madrid and the cool Catalan hub of Barcelona, I chose the city that eludes me.  The unattainable.  It is human nature to want what we can't have, and for some daft reason I'll continue to run after the place that tiptoes beside me and jumps backward whenever I reach out a hand.
But what is the real reason I prefer the French expression of this emotion? Quite simply—it leaves room for possibility.  You will never build a castle in the sky, but a chateau in Barcelona? Not nearly as precarious.
Besides, Catalans have already mastered the art of building tall castles.  Check out the tradition of castellers if you don't believe me.  
I believe the solid foundation is this: the rejection Barcelona presents does not lie in its people.  The Catalans, collectively, have opened their arms to me in ways that blow my mind, inspire the deepest stirrings of gratitude, and rekindle the dream that occasionally requires the spark of their encouragement to stay alive.  The Catalan people are Barcelona's most valuable cargo, and with a gem so precious and so exposed, wouldn't you valiantly strive to protect it? Barcelona is guarded because it is testing whether or not you are worthy.  In spite of all of this glittering encouragement, the questions of "when" or "if" my chateau will materialize remain unclear. In the words of a Catalan phrase I've come to love and resent in equal measure these days – ens veiem. 
We will see.
–
This is the second installment in our "That Time We…" series.  If you have personal insights you'd like to share on travel and cultural experiences, please send the pitch to inquiries@ready-set-jet.com.