Someone should start a support group for untouched travel diaries and abandoned blogs.  Recording your exploits is an integral part of the experience, so we've come up with three fool-proof ways to keep score WITHOUT uttering the words, "Dear Diary."  Warning: you NEVER saw these coming!
How many travel diaries did you get for Christmas? Everyone knows you're off to live the high life, so why do they expect you to sit inside and contemplate?  If you are a regular journal fiend, all the power to you.  Chances are, if you're not, you will not instantly turn into one when you arrive overseas.  In fact, you'll be even less inclined to take quiet time [but if you do, may we suggest Meditainment?]  The same goes for blogs.  Yeah you came up with a cute title and a funny background image.  But that poor URL will be abandoned faster than you can say une baguette, s'il vous plaît. 
Here are three fun, modern, and inexpensive ways to record your abroad experience without the intimidation factor!
1.  Buy A Photo Receiver or "Magic Frame"
Imagine sending an image of yourself on the Great Wall of China to your family back home…within five seconds. A Magic Frame, when displayed in a location with WiFi connectivity, receives photos from anywhere in the world instantly.  You can use your smartphone, digital camera, or even Facebook to send your hottest shots to a photo frame thousands of miles away.
OUR IDEA  Send one photo per day–whether it's of food, monuments, or even just you being silly–to a Magic Frame at home.  Your friends & family will have an instant window into your life, and when you get home, you'll have a comprehensive digital travel diary.
Resource: Ceiva Photo Receivers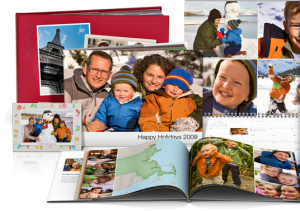 2.  AT HOME PROJECT: Create an iPhoto (or Snapfish) Photo Book
It's natural to feel nostalgic about your abroad experience when you come home, so why not channel the longing into good use?  While the memories are still fresh, look into the photo book option of iPhoto (if you're a Mac user), or the equivalent at Snapfish.com.  Why confine your photos to your hard drive where you won't relive them daily?  iPhoto or Snapfish photo books are easy-to-layout, gorgeous coffee table books you design from start to finish.  You can include map routes, diary entries, captions, and photos (from small shots to two-page spreads!) When you're done, simply export the file and wait 1-2 weeks for your Pulitzer-worthy publication to arrive!
OUR IDEA  If you're a diligent photographer (of monuments or club exploits, we don't discriminate), organize your photos and upload them either to iPhoto, Snapfish, or a photo-sharing site of your choice.  Jot down a reminder caption when you can.  After returning home, take a few days to layout one of these incredible books for yourself.  You might even want to send a copy to friends you met abroad!
Resource: iPhoto Books | Snapfish Photo Books
3.  Start a Tumblr
We've already written about this idea here, so you can tell we're super-serious.  Tumblrs are the easiest, most aesthetically-pleasing blogs out there.  You are not pressured by the ominous, blank screen begging for a Dostoevsky-worthy novel.  Instead, upload short bursts of information, videos, and MP3s when you feel like it.  Horrible karaoke session in Tokyo recorded for posterity? Go on, inflict upon your entire family.
OUR IDEA Create a Tumblr with an "angle" so to speak, that way you're not lost for words.  Record your most delicious food exploits in Southeast Asia.  Document outrageous Russian fashions, like our contributor Emily Holland.  Upload a short video everyday like you're a reality TV show contestant.  These sites look more like scrapbooks than blogs, so you can take it wherever you want to take it.  Go on, impress us!
Resource: Tumblr
How did you document your best travel exploits? We want to hear! Leave a comment below and share with us your battlecry against the travel diary.