Five time National Champion. Athlete representative on the 2008 Toronto Olympic bid. With thirty countries under his belt and quite a bit of hardware to show for it, Canadian Badminton pro Stu Arthur tells us the secrets of life as a jetsetting athlete.  Rule number one – always sleep in your snow pants.
If the London Olympics had you fantasizing about the lifestyle of the likes of Michael Phelps and Andy Murray, then allow Stu Arthur to confirm all of your suspicions. Yes, it's as wild as it seems.  And no, it's not always smooth sailing.
From audiences that included the Sultan of Brunei to a roommate who rivaled New York's naked cowboy, Stu has collected some incredible characters and adventures across a career of ranking top-40 in the world.  If you thought those photos of Ryan Lochte racing Prince Harry were outrageous, then you clearly have never seen a Badminton star without his scooter in the jungles of Penang. [Too bad we don't have photos of that...]
We had a chance to catch up with the disarmingly funny Stu Arthur about the secret world of elite athletes on-and-off the courts.  Let's just say he had us at "hotel snob."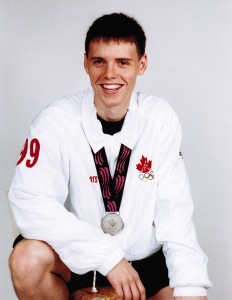 RSJ: Since the Olympics just drew to a close, we have to mention the news that really put badminton on blast this summer. What's your take on the Chinese match-fixing scandal?
Stu: This has been going on for years in world Badminton where China would throw matches to help their teammates get valuable ranking points when needed. The set up for the event was very conducive to encouraging this type of match fixing, and it's too bad that the teams chose to manipulate the system. That being said, it's the best thing that could have happened to Badminton — now people actually know it isn't just played at the beach or barbeques! You know you've made it when TMZ talks about you.
RSJ: I think the primary concern of most travelers is how they plan to pay for their travels – and there is a big assumption that athletes have all of their expenses paid for them. Was Canada paying for you to train abroad and jetset around the world?
Stu: I had a few things working against me:
#1) The government would give me $1,100 a month for everything, and I would spend that in a week and a half.
#2) I'm a total snob and hate crappy hotels and eating cheap food. I was really lucky to have a few private sponsors, as well as corporate help from Airmiles, Yonex and my parents who I still owe like forty grand…cheques in the mail!
RSJ: What was the athlete lifestyle off the courts like – as wild as we all hope/imagine? What's the craziest thing you ever did?
Stu: Me and a few other guys always traveled together. We flew from Toronto to Spain and were all super stiff and sore after the flight (9 hours of push-up competitions…insert bad joke).  Anyway, when we landed, we wanted to go for a massage.  None of us spoke Spanish, but we managed to find a place that was open in the city of Seville.
I should've known when I walked in that this was probably not the type of place I was thinking of.  All of the masseuses were lined up against the wall, and we were told to pick which masseuse we wanted.
When I tried to leave, the lady who ran the place (looked like Susan Boyle with a sweet mustache) said in perfect-ish English, "You pay masshay or you come with me!!!" I paid, ran around for five hours with no money, and no info of where I was staying.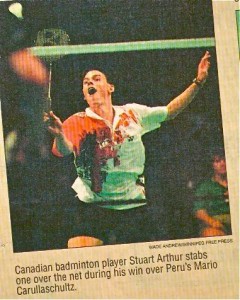 RSJ: How did common travel issues like jetlag, differences in water/food abroad, and new climates affect your playing performance? 
Stu: I was petrified to fly. I was so scared of turbulence that I would stare out the window and not talk for the entire flight. I was on a trip and acting so frightened that this kid said to his Mom, "I think it's his first time flying." (I would later become a commercial pilot because I was so scared of being scared).
I also have a good food story: I was in Mexico City and was scheduled to play my Badminton idol…he was the 1992 Silver Medalist at the Barcelona Olympics. I ate at this Chi Chi's-like place the night before, and had some weird creamy sauce. I got up at 4am and puked right up until we had to go to the venue.  I was so shattered that I wouldn't get to play my idol that I convinced myself I was better.  Three rallies in, I puked on the umpire's chair as well as my idol's racket bag.
RSJ: I can imagine that the majority of your time at a tournament is spent playing and training. That being said, did you ever get to explore the places you visited like a tourist? Did you have a favorite?
Stu: The Batu caves in Kuala Lumpur…such a cool place. They have these monkeys that are super nice until they see you have food, then they become mega mad until you give them what they want.  I also chose to forgo the tournament transportation and traveled everywhere on a scooter, which was so much fun until it rained.  I wiped out and broke the handle bars, lost my deposit, and had to walk back through the jungle in Penang.
RSJ: Your sister clued us in on a few details of some scandalous times you had while training abroad. Tell us about your experience in Denmark.
Stu: I moved to Denmark at fifteen; the plan was to stay with a family for the year and train at the National Center. Unfortunately I over-stayed my welcome two weeks in, and they flogged me off on the training center accountant named Uli.
He seemed really nice and said he had been to Canada, and had pictures to show me of his time at the Calgary stampede [an annual rodeo & festival held in July].  A few days later, I came down for breakfast to Uli in his cowboy hat and pics of the stampede on the table… the problem was, he decided to wear only his cowboy hat (I gave him the benefit of the doubt that maybe this is a Scandinavian thing and went with it).
I realized that it probably wasn't normal when I found a peep hole in the wall leading from his room to mine…silly Uli, Canadians sleep in their snow pants!
Additionally, I took the train everywhere in Denmark and it's on the honor system that you pay.  One day, I forgot to stamp my train card and of course it was the one day the police came on to check tickets. I managed to talk my way out of it by saying I played at the Badminton Center, and dropped some Badminton players' names…they love the sport so much over there!
RSJ: What is one thing you never left home without packing?
Stu: 1) Dr. Ho.
2) My rackets.  A cool fact about Tennis/Badminton players is that our rackets have to be strung after each flight. The string expands and contracts with the change in altitude.  Also we never check our rackets; my doubles partner checked his rackets to Europe once, and when he arrived, all of them were snapped in half.
RSJ: On a non-travel related note, watching the Olympics, I'm always so intrigued by how much hard work goes into those few seconds of glory. What was the most memorable athletic achievement you had?
Stu: I was able to win the Silver Medal at the Pan Am games. I played in front of 12,000 people that included the Sultan of Brunei (then the richest man in the world). My family was in the crowd and I was able to pick them out in the stands.
–
Stu Arthur is a five-time National Champion, former member of the Canadian National Badminton Team, and Silver Medalist of the 1999 Pan American Games.  He is Head Badminton Pro at The Oakville Club and former director of the Canadian Badminton Coaches Association.  Stu also served as an athlete representative on the 2008 Toronto Olympic bid.