I knew it was going to be a long day when, at 11:30 in the morning, I gurgled down young, bitter Georgian wine siphoned from a clear tube attached to a large blue barrel. The trek through Stalin's birthplace, a snow-dusted little town called Gori in rural Georgia, had left my toes painfully numb and so I welcomed the slow burn of alcohol as it slid down my throat.
On Skype the previous night, Besik, our university friend, had explained that only his grandfather spoke anything but Georgian, a small detail he had left out before. We were all relying on Caroline's Russian skills to communicate, and already I was worried. Besik's grandfather spoke rapid Russian, gesticulating wildly with his sausage-like fingers throughout our tour of his vineyard and warehouse. But not to worry, Besik had said, I am sure you will be able to communicate.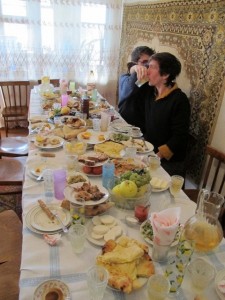 Inside the house, the smells of baking katchapuri (a fresh baked bread with copious amounts of sizzling cheese) and the hint of gamey meat roasting made my mouth water. Our dinner table had been set up on a large board, mounted on very wobbly and uneven stands, with an eggshell-colored plastic tarp to hide the legs. The room was sparse, with little decoration other than the items necessary for daily life: a small wood stove, a few plastic chairs and the little cousin's dolls.
Before my toes defrosted completely, Besik's cousin handed me a new glass of wine, filled to the brim. As I warmed up and sipped cautiously on an empty stomach, the grandmother shuffled between the kitchen and the table, bringing out heaping plates of freshly cut tomatoes, cheeses, pears, peaches, and plums. When ready, we shuffled around to our places and the grandfather got up to give what would be our first of many toasts, a welcome to all of us into his home.
His rosy plump cheeks beamed as we all raised our glasses, to which he proceeded to finish the entirety of his wine in one big gulp. I looked over incredulously at my friend Alistair, whose eyes had grown to the size of large black grapes, as he observed with fear the men gulp down their full glasses. With a shrug of my shoulders, I followed suit, wincing as the liquid attacked the back of my throat. One 'shot' of wine won't hurt me.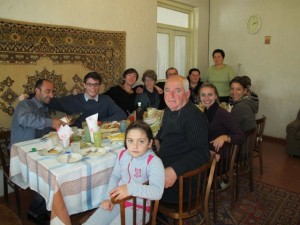 We dug into the meal like hungry beasts, devouring the katchapuri and the ripe tomatoes, all fresh ingredients from the garden and farm. The grandmother's small hands ripped at the flesh of the rabbit, pulling pieces off and placing them on our plates before we could finish our last helping. Mike, my vegetarian friend, stared down at a giant hunk of rabbit meat as she reached for his plate, afraid but determined to finish and show his gratitude.
While we ate, the second toast came from the oldest cousin. He raised his glass of wine and wished us all, in all serious and dramatic gestures, good health and future prosperity. We laughed and thanked him as we chugged our second glasses of wine, considerably easier than the first. As soon as the cousin sat down, the grandmother was up, proposing a toast to peace amongst each of our nations.
Each subsequent toast – to football, to education, to world leaders and world peace – all culminated in one long swing of the arm and a flush of the hot liquid. By the time I had my eight or ninth glass of wine, my Russian skills had drastically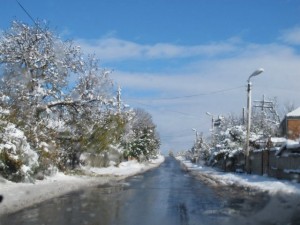 improved and I was pleading with my new best friend, the grandfather, to let me please take a rest during the next toast. "Okay," he said, "my daughters can stop drinking, but the men can handle it."
By the time the meal was over, the room swayed and the conversation was loose. We rolled out of the comfortable little house, cheeks pink with flush, into the harsh cold and the abrupt reality of having to say goodbye. All we could muster was many madluba's (thank you's) and hugs before the cousin squeezed all six of us in the backseat of a car (probably as old as Stalin himself) and drove us back to the bus station.
When I returned home to Abu Dhabi, I met up with my Armenian professor Georgi. Over black steaming coffee I detailed the dinner with my new Georgian family, not leaving out the many toasts in our honor. Georgi, laughing, explained the Caucasian philosophy on the matter: "Drinking without toasting is alcoholism, but drinking and toasting is a sermon." In all my lunches, dinners, and parties, I don't forget to give a Georgian toast.
–
Nicole Lopez Del Carril is a new contributor to RSJ and studies the relationship between food and international politics.  You can read more of her beautiful work on NYU Abu Dhabi's The Gazelle and her personal blog, Una Mina Perdida.